QUANTITY = NUMBER OF FEET YOU WILL RECEIVE
The classic 3-conductor mic cable – balanced double Reussen shielded analog audio cable. For three decades, this was the famed IC-3 Interconnect Cable supplied with Neumann Microphones in the USA.
Why three conductors for an audio signal? Here are some answers:
Grounding/shielding: With the third conductor put to ground, together with the two shields, we have a cable design renowned for superior RF-rejection for 5 decades. This fact has been confirmed in literally hundreds of situations where severe RFI problems were solved simply by a change to a properly grounded Gotham microphone cable. In an AES-paper presented by Neil A. Muncy in November 1994, GAC-3 was named the best performing microphone cable then available. Reference: "Noise Susceptibility in Analog and Digital Signal Processing Systems" presented at the 97th AES Convention, San Francisco, November 1994, Revised April 12, 1995 – Journal of the Audio Engineering Society, Vol. 43 #6, June 1995, p. 435-453.
Round Construction: 3-conductor constructions are round constructions, and since the cable has the freedom to move in all directions, especially on the strain relief of a connector, the cable will survive more movement cycles.
Phantom Power: The 3rd conductor can be wired as a drain wire for a reliable connection of phantom power to the microphone, without affecting the shield.
Each of the three conductors consists of 96 (!!) strands of LCOF 0.05mm copper wires. The finest available stranding for audio cables resulting in improved flexibility, better signal transport and longer lifetime (moving cycles).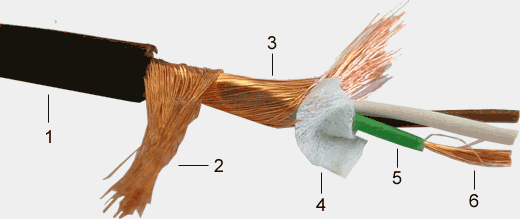 Construction:
| | |
| --- | --- |
| 1 = Jacket | PVC, ø 5.8 mm |
| 2 = Shield No. 1 | Bare copper wires (0.10 mm) 100% coverage |
| 3 = Shield No. 2 | Bare copper wires (0.10 mm) 100% coverage |
| 4 = Viscose Fiber Coat | Counter wrapped to the twisted triple |
| 5 = Insulation | PE, ø 1.2 mm, white, brown and green, twisted triple |
| 6 = Conductor | Stranded bare copper wires 96 x 0.05 mm (0.19 mm^2) |
Technical Specifications:
Conductor resistance:
< 90 Ohm/km
Shielding resistance:
< 20 Ohm/km
Capacitance:
cond/cond:
< 150 nF /km
cond/shield:
< 240 nF /km
Characteristic impedance:
at 10 kHz:
150 Ohm
Test voltage:
cond/cond:
500 V eff.
cond/shield:
2000 V eff.
Operating voltage:
Low voltage
Temperature range:
flexi-installed:
-5° to +50° C
fix-installed:

-30

°

to +70

°

C
GOTHAM AUDIO CABLE Standard Wiring for GAC-3:
Brown = Pin 2 + (Hot)
White = Pin 2 – (Cold)
Both shields plus Green = Pin 1 (Ground)